About the Extra Life London Guild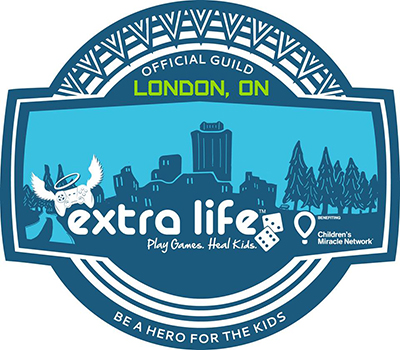 The Extra Life London Guild was formed in 2015 to help strengthen the support that helps kids cared for at Children's Hospital in London, Ontario, through its fundraising arm, Children's Health Foundation (CHF).

With the support of CHF, the Guild focuses on recruitment and bringing gamers in Southwestern Ontario together to help local kids and their families. The Guild is made up of local Extra Life participants who want to spread the word and raise funds for the kids!
---
About Children's Health Foundation

Children's Health Foundation is dedicated to raising and granting funds to support Children's Hospital at London Health Sciences Centre, Thames Valley Children's Centre and Children's Health Research Institute.

Since 1922, funds raised have helped deliver exceptional care and support for children and their families by providing specialized paediatric care, equipment, education programs, therapy, rehabilitation services and research.
---
Contact Us
If you have any questions about this event, or you are interested in sponsoring, please call Children's Health Foundation, Monday to Friday, 9:00am to 5:00pm EST.
Contact Us
Jaynel Lebel, Children's Health Foundation
Tel: 519-432-8564 x9247
Email: jlebel@childhealth.ca