---

Child Life is the magic that our patient families need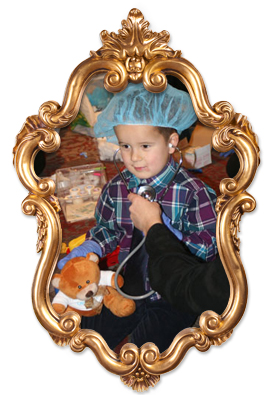 Hospitalization can have profound effects on a child's self-image and esteem. The Child Life Program at Children's Hospital helps patient families from across Southwestern Ontario and Northwestern Ontario to effectively cope in so many ways. Child Life nurtures the spirit by helping our region's kids to play, laugh and enjoy some of the most meaningful aspects of childhood even if they can't leave their hospital beds. Child Life gives patients back the sense of normalcy that illness or injury may have taken away from them.
"We would like to thank Child Life for everything you do for us during our stay. You helped us a lot and went out of your way to make our son's stay extra comfortable and we will never forget that. Thank you for taking the time to talk to our other children about what happened." - Mother of 6 month old patient

From celebrating holidays in the hospital to providing therapy and advocacy, Child Life Specialists positively shape our families' experiences. Child Life Specialists use play, role-playing, teaching puppets and dolls to help make patients feel more at ease while being at the hospital. They work collaboratively with patients, families, and health care providers to enhance the quality of life for children, youth, and families by focusing on their psychosocial needs, as follows:
Ease a child's fear and anxiety with the use of therapeutic and recreational play activities;

Foster an environment that incorporates emotional support;

Encourage understanding and cooperation by providing preparation and support for children undergoing tests, surgeries, and other medical procedures;

Advocate for patient and family-centered care;

Engage and energize children and families by coordinating special events, entertainment, and activities;

Consider the needs of siblings or other children who may also be affected by a child's illness or trauma, and offer support to them;

Support families confronting grief and bereavement issues.
Supporting the Child Life Program
Children's Health Foundation mobilizes our community to support excellence in health care. Donations bridge the gap between what government funding supports and what is needed to provide the best care possible for kids across our region. Annually, more than 10,000 patients and their families rely on Child Life to navigate the unimaginable experiences of coping with a critical paediatric illness or injury. Without the generous support of our sponsors, these children may not have access to a life-enhancing program that prevents psychological trauma and elevates long-term care outcomes.
All proceeds from Magical Winter Ball help support the Child Life Program at Children's Hospital!