Meet Mckenna
Will you be bowling for miracles like Mckenna?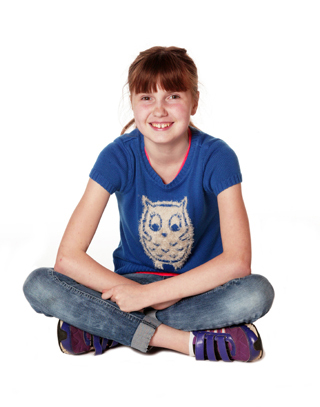 11-year-old Mckenna has gone through and continues to deal with not one, but two very difficult health care obstacles, which include the removal of a brain tumour at the age of four and a more recent diagnosis of scoliosis. When you meet Mckenna, you have no idea that she carries the weight of these experiences what you will notice is that she is a proud member of our Children's health care family and an imaginative young girl who is delightful through and through.
In January 2010, Mckenna was ambulanced from Windsor to London, Ontario where she was diagnosed with a pilocytic astrocytoma, which is a type of brain tumour. Immediately following Mckenna's diagnosis, a paediatric neurosurgeon at Children's Hospital removed the tumour during a 15-hour surgery. More than five years later, Mckenna continues to be monitored by her Children's Hospital care team.
In December 2013, Mckenna was also diagnosed with severe scoliosis. Following this diagnosis, Mckenna was fitted for a brace which she now wears for 20 hours each day to prevent the curvature from deepening. Once she stops growing, Mckenna's care team will evaluate if she needs spinal surgery.
Despite her challenges, Mckenna always looks on the bright side. During the appointment where she was told she would have to wear a brace almost constantly, she focused on the fact that she would still be able to dance and even did a few twirls around the hospital room.
Mckenna's parents explain that what makes Mckenna stand out in the crowd is the fact that she is "not in the crowd at all." Mckenna is truly one-of-a-kind, and the perfect example of the resiliency exemplified by Children's Health Foundation ambassadors.
Register as a Bowler Now
Sponsor a Bowler